The COL James F. Gamble Award
The COL James F. Gamble Award is established to recognize an individual who has demonstrated exemplary performance and dedication in support of the member states and activities.
2021
2020
2019
2018
2017
2016
2015
2014
2013
2012
2011
2010
2009
2008
2007
2006
2005
2004
2003
2002
2001
2000
1999
1998
1997
1996
1995
1994
1994
1993
1992
1991

Lt Col Mary Colleen Chipper
Augie Grace
Col Steve Mehring
CDR USN (Ret) Mike Sturm
Michele Henry
LTC (Ret) Kenneth E. Moix
COL (Ret) Larry McKnight
COL (Ret) Kenneth R. Andresen
CW5 (Ret)Howard Haider **
Ray Lindner
Lt Col (Ret) Joseph R. "Stoney" Stone
BG (PA-Ret) Dean Oswald
BG (Ret) Marshall Kennemer
CW4 (Ret) James W. McEwen **
COL (Ret) Malen "Butch" Dowse
Brig Gen (Ret) Stephen Koper
MG (Ret) H. Luke Goodwin
CW4 (Ret) William J. Wilson
Robert J. Casias
COL (Ret) Don Deering
COL Bryce K. Hickey *
LTC (Ret) Russell W. Kraus
CW4 (Ret) Ken Workman
COL (Ret) Oscar G. Russell
COL (Ret) Dale M. Pyeatt **
CW4 (Ret) Larry Cisneros
Helen B. Aepli
Patricia H. Jones **
COL (Ret) Jerry W. Heaton
COL (Ret) J. Tipton Lewis **
CW4 (Ret) Lewis O. King **
COL (Ret) James F. Gamble **

Virginia
Massachusetts
Montana
Indiana
Kansas
Arkansas
Tennessee
Iowa
New York
Texas
Alabama
Pennsylvania
Georgia
South Dakota
Kansas
Ohio
Mississippi
Ohio
Texas
Tennessee
Tennessee
Colorado
Utah
Arkansas
Texas
New Mexico
Arizona
Alabama
Kentucky
Mississippi
Texas
Alabama

 * Awarded Posthumously
** Deceased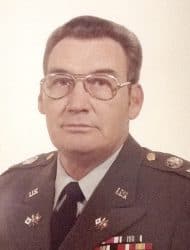 COL James F. Gamble
The National Guard Executive Director's Association (NGEDA) lost a true American hero over the 2016 Memorial Day weekend.
COL (Ret) James F. Gamble was a founder of the National Guard Association of Alabama (NGAAL) and NGEDA. He served as NGEDA's first president in 1966 and again a decade later in 1976. He testified before Congress in the early 1970s to secure payroll deductions for the National Guard Assotiations' life insurance programs. Each January at the annual NGEDA conference, the COL James F. Gamble Award is presented in his honor to an outstanding NGEDA member.